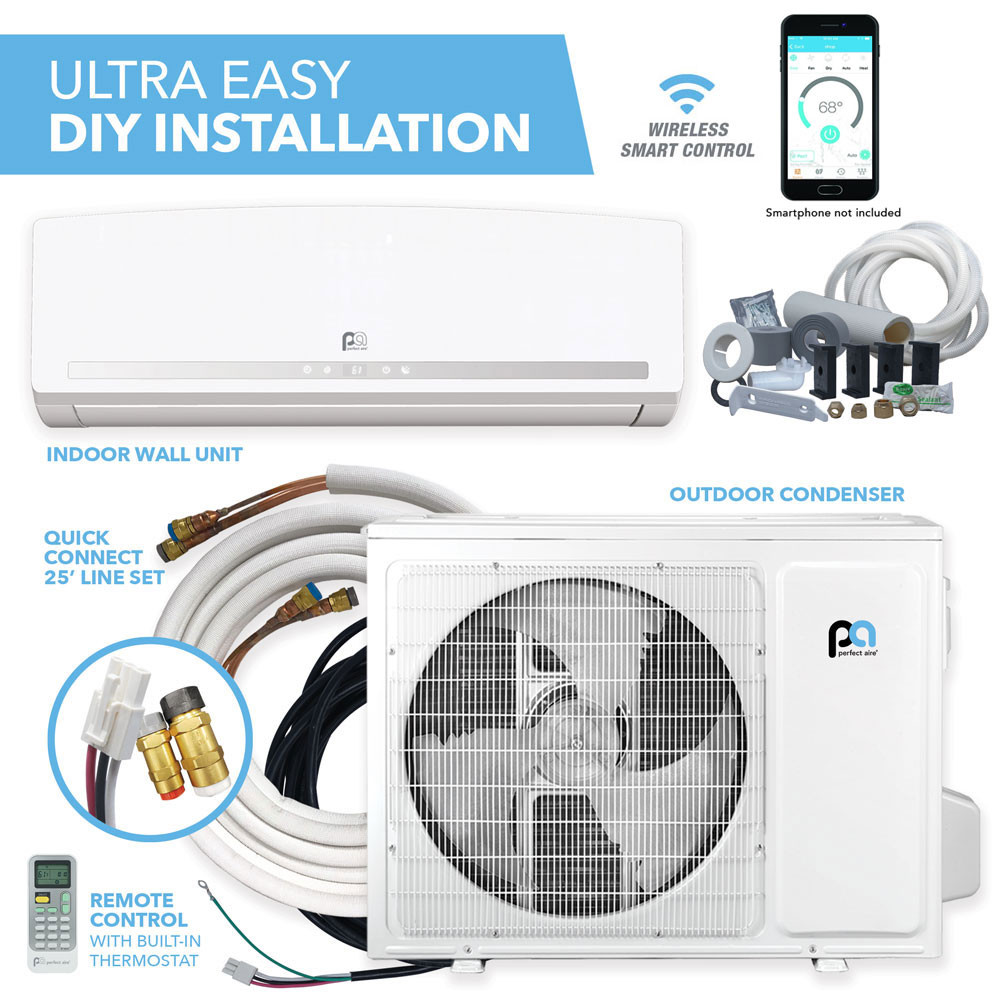 Perfect Aire DIY 18,000 BTU 23.3 SEER Quick Connect Ductless Mini-Split Heat Pump w/ WiFi - 230V
Details
Quick-rundown: A simple install DIY mini split AC & Heat Pump with DIYCOOL connectors packed with 4 operating modes and Smart features for efficient year-round comfort in medium to large spaces at an unbeatable price.
Overview
With no special tools or training required, the Perfect Aire 3PAMSHQC18 simplifies the do-it-yourself installation. This 18,000 BTU unit with DIYCOOL™ connectors comes with everything you need to enjoy comfort in rooms up to 800 square feet. Follow the step-by-step instructions to connect the outdoor condenser to the indoor blower with the included 25' line set, and you're choosing between 4 operating modes with the included remote control in no time. Take advantage of the built-in Smart features by downloading the Perfect Aire app to your smartphone or tablet, and you're controlling, programming, and monitoring your mini-split from anywhere with a wireless connection.
DIY vs Non-DIY
DIY
DIYCOOL™: No soldering, No refrigerant handling, No gauges, No vacuum pump or licensed contractor needed.
Full warranty on compressor AND parts, even if you self install
Cost of install: $0 plus your time invested to install the unit
NON-DIY
Price for unit with the additional install accessories needed for the installation is about 15% less(sounds like a great deal)
Estimated cost average for professional installation by an HVAC technician about the same cost as the equipment or more
Warranty in place but only if installed by a licensed HVAC company(no warranty otherwise)
Operation
The 4 Main Operating Modes
Cooling: 18,000 BTUs to efficiently cool spaces up to 800 square feet.
Heating: Efficient heat pump technology delivers 18,000 BTUs of heat, good for spaces up to 800 square feet.
This unit allows you to set your desired temperature from 62 to 80 degrees Fahrenheit.
Dehumidify: Enable DRY mode and the unit acts as a dehumidifier, removing more moisture than air conditioning alone. In this mode, you can remove 1.5 liters of moisture per hour, almost matching the energy factor of best-selling portable dehumidifier brands.
Fan Only: The unit offers 4 fan speeds in any operating setting or use the fan mode alone to circulate fresh air throughout your space.
Energy Saving Modes
AUTO Mode: A "set it and forget it" feature for eliminating guesswork. With your desired temperature set, enable AUTO mode and your mini split will choose the most appropriate operating mode to achieve maximum comfort in your space.
SLEEP Mode: Save energy and money by enabling SLEEP mode. The unit will adjust the temperature by 2 degrees towards a less costly operation: every hour for the first 2 hours, then locks in that optimal running state for the next 5 hours, before it shuts off automatically.
Smart Operation
The 3PAMSHQC18 model has a built in wireless smart controller. Simply download the Perfect Aire app, connect your smartphone or tablet, and you have a virtual remote controller. Switch between modes and program run times anywhere with a wi-fi connection.
Other Cool Features
Programmable Timer and Mode Scheduling
Set your system to turn on and off to save energy and money: Set TIMER ON and TIMER OFF times in 30-minute increments up to 10 hours, then 1-hour increments afterwards.
With the Perfect-Aire app and a Wi-Fi connection, you can even schedule times for the different modes to run – all from a smartphone or tablet.
4 Fan Speeds
Press the FAN SPEED button on the remote to cycle through Auto, Low, Medium, and High and find one that suits any situation.
Auto-Restart
In case of a power outage, the unit will automatically restart and revert to your settings once power is restored.
Auto-Swing Louvers & Angle Memory
The Louvers can be set to automatically swing back and forth for an even air distribution. Press the "SWING" button on your remote to start and stop.
Louver Angle Memory – Keep your previously set louver direction every time you power on your unit.
The Turbo Button
Hit this button on the remote to reach a desired temperature even faster. Your best friend when having guests over.
Anti-Mildew
Turn off the unit from COOL, AUTO, or DRY modes and the unit will operate in a super low-power state to dry up the condensed water many other AC units leave behind, preventing the mildew problem many have known with other AC solutions.
Refrigerant Leakage Detection, Self-Cleaning, & Self-Diagnostics
The indoor unit will automatically display "EC" when it detects refrigerant leakage.
LED Display codes on the indoor blower keep you in the know, letting you rest assured your timer was successfully set, indicating whether the unit is in defrost mode, self-cleaning mode, or simply indicating it is time to change your air filter.
The Critical Components
Anti-Corrosive Condenser & Inverter Compressor
Perfect Aire single-zone units use a golden hydrophilic condenser to accelerate the defrosting process, improving the heating efficiency. This unique anti-corrosive condenser can withstand salty air, rain, and other corrosive elements.
The inverter compressor is programmed to run at optimum speed; set by the input frequency as it varies between heat requirements. This allows the unit to curb drastic temperature swings, keeping your space comfortable. Inverters use a different rotation speed than regular compressors, out-performing them in quietness, efficiency, and longevity.
Additional Information
| | |
| --- | --- |
| SKU | 3PAMSHQC18 |
| Manufacturer | Perfect Aire |
| AHRI Certificate Number | 205653643 |
| Controller | Included |
| Included Items | 25' Precharged Line Sets |
| HSPF | 11.6 |
| Cooling BTU | 18,000 BTU |
| Heating BTU | 19,000 BTU |
| Maximum CFM | 412 |
| Decibel Level (dBA) | Indoor - Variable 27-44 DB |
| Energy Star | Yes |
| Refrigerant | R410A |
| SEER | 23 |
| EER | 13 |
| Condenser Stages | Variable Speed |
| Liquid Line | 1/4" |
| Suction Line | 1/2" |
| Electrical | 208/230V 1 Phase 60 Hz |
| Max Breaker Size | 20 |
| Min. Breaker Size | 15 |
| Tonnage | 1.5 Ton |
| System Tonnage | 1.5 Ton |
| Mini-Split Type | Wall Mounted |
| Zone Compatibility | Single Zone |
| Height | Indoor Unit: 12-13/16" Outdoor Unit: 25-9/16" |
| Width | Indoor Unit: 43-5/16" Outdoor Unit: 33-7/8" |
| Depth | Indoor Unit: 9-5/8" Outdoor Unit: 12-3/16" |
| Weight (in lbs) | 146.0000 |
| Warranty | 1 Year Unit Replacement / 7 Year Compressor / 7 Year Parts |
| Resources | |
| Safety Information | PROPOSITION 65 WARNING |
Reviews
Loving our Perfect Aire

I just finish the installation of this unit and I LOVE IT!! DIY except hired an electrician to do the wiring. It's quiet and performs beautifully. If you're not handy and don't have a decent supply of tools, you might need help with the installation. I purchased before the price dropped, but hey, that's ok, because my house is cool! Only con that I have is that there is a lot of extra hose outside. I purchased a wall mount static hose hanger and looped ot on that. Presto! Saved myself a boatload of money as estimated for hvac contractor installations were $7000-9000.

Great unit

Unit works flawlessly. Installation was a breeze with no leak issues at all. Highly recommend


Very happy with the performance of this unit

Very pleased with our unit. The packaging is excellent and protects the components very well. The quality of workmanship and materials is excellent. Directions are reasonably well written, side note it tells you not to take the foam off of the end of the line-set because you can get dirt in the fittings. What they didn't say is this also keeps the tubes positioned so they can be connected easily.

Great DIY mini-split system

Received my shipment of the PerfectAire 18k DIY mini split unit quickly in Southern California within one week from order placement, shipped all the way from Atlanta, GA. Good shipper, no damage, init was secured well on brand new pallet, delivered it right into my garage from the truck, no problem. This is the very same as a "Mr. Cool" system, it's just branded "PerfectAire" instead. (HVAC Direct reps confirmed this fact.). The system does not come with an extension tube for the condensation drain. You have to purchase one if you need it. I was able to make the line set fit in a 3 inch wide cover kit that I found elsewhere. Installation is very straight-forward, just follow the instructions which are fairly clear. If you are fairly handy with tools, you'll have no problem. One tip, the flange of the hole tube for the line set going through the wall needs to be *completely* flush to both sides of the wall, especially on the inside wall, in order to have the wall unit mount flat to the wall—this can be an issue if you are sloping the tube downward by a quarter-inch as is recommended. The system comes with a very nice additional "Cielo Breez" WIFI controller, which is actually far better than the Mr. Cool wifi "dongle" and app. The Cielo wifi controller is a very nice, unexpected "perk" of this PerfectAire system. I was pleasantly surprised at the ease and good function of the "pre-charged" DIY "quick connect" line set—it's very flexible, you can easily make 45 and even 90-degree bends by hand. The inside air handler wall unit also is very good. It has many functions and good air speed power. And this unit is so quiet, for both units inside and out. No vibration noise on the compressor mounted outside on a wall mount bracket. This system is impressive, I am hopeful that it will last and perform well for a long time.

Very happy with unit. Easy to install, worked first try.

Delivery very fast. Read ALL direction first.
The electrical connector seal tight did not fit knockout. Sealtight 3/4 -knockout 1/2.

Very happy with unit. Easy to install, worked first try.

Delivery very fast. Read ALL direction first.
The electrical connector seal tight did not fit knockout. Sealtight 3/4 -knockout 1/2.

Easy, convenient, quit, powerful

super easy to install. This thing is a workhorse. Heats and cools my garage with no issues. Wi-Fi on this works flawlessly and I can upload my kids picture on the smart controller... can't beat it for the price
Write Your Own Review
Product Questions
Ask a Question
Sort By:

Why Choose Prefect Aire?
Perfect Aire ductless mini-split air conditioners and heat pumps are the cutting edge of what modern, flexible fabrication can produce. These mini-split systems rely on state-of-the-art manufacturing processes and advanced design to deliver high efficiency.
Why Buy From Us?
Customer Satisfaction
Our dedicated staff works hard to ensure that all orders are handled quickly and efficiently to ensure that you get what you ordered as quickly as possible.
Security
We provide a secure online shopping experience to protect your information. We also provide the option to checkout with PayPal to allow you to use a checkout service you are familiar with.
Save Money
Our low price guarantee provides you with confidence and piece of mind, knowing you purchased a quality product at a great price