Quick System Selector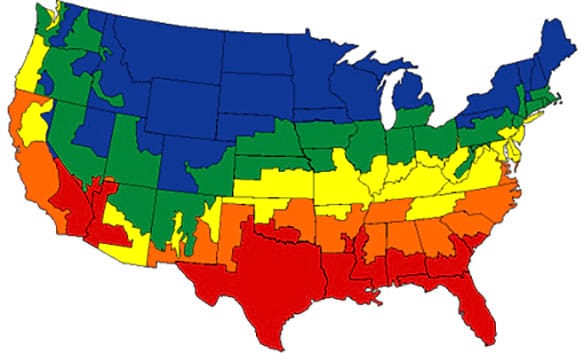 Easy To Use A/C Size Selection Tool: Check the color coded map above and confirm the zone your home is in. Then, on the chart included underneath, select the square footage of your home along with the zone you're in. From there you can select one of units that will be most efficient for your home.
Proper System Sizing
A lot of real science is included in the methods of calculation when selecting the right size central air conditioner for your home. For instance, one of these methods is a Residential Load Calculation.
Another method for sizing air conditioners is determining the size of the air conditioner system that's currently in place. Manufacturers normally don't list the size of the air conditioner unit but don't worry! The system capacity is almost always coded into the model number of the outdoor unit.
In most cases you can use the conversion information below to help in determining the size of your existing air conditioner system (use the system model number NOT the serial number)
18 = 1.5 tons
24 = 2 tons
30 = 2.5 tons
36 = 3 tons
42 = 3.5 tons
48 = 4 tons
60 = 5 tons
A Warning Before You Start Sizing Your Air Conditioner: Do not to make the mistake of buying an A/C that's too large! When you install an air conditioner that's too large for the space, it does what is called a 'short cycle'. A short cycle is when the compressor doesn't run for enough time to dehumidify the area you're trying to climate control. A short cycling A/C system isn't the only concern; in most cases the system will cycle on and off more often, this translates to an increase in operating costs and an overall reduction in the system's life. Proper air conditioner sizing is critical to optimize performance.
Heating Square Footage By Climate Zone
| | | | | |
| --- | --- | --- | --- | --- |
| ZONE 1 | ZONE 2 | ZONE 3 | ZONE 4 | ZONE 5 |
| 30 - 35 Btu's per square foot | 35 - 40 Btu's per square foot | 40 - 45 Btu's per square foot | 45 - 50 Btu's per square foot | 50 - 60 Btu's per square foot |
Heating Guide
Here we will cover how to use the heating guide portion of this selection guide. You will need to use the lower of the two numbers if you know your home to be well insulated; use the higher number if your home is older and poorly insulated – be honest! It will pay off in the end. (Here's another Hint: You should select the larger of the two numbers if you're completely unsure of your home's insulation)
If you can find your furnace model number, you can skip the calculation and look up your model number to find exactly what you need. Please refer to this furnace model number decoder to help determine what you currently have. If you have issues with this, give us a call and we are happy to help.
You will then quickly multiply the correct number above by your home's total heated square footage. At this point you will have arrived at your approximate heating capacity requirement.
An example you can reference: If your home is in the yellow zone, your home is adequately insulated, and you've got 2000 heated square feet, the equation will look something like this:
2000 square feet
X 40 heating factor (from the chart above)
80,000 Btu actual output
Next, if you need to calculate the output you need on a gas furnace, simply multiply its efficiency by its listed input rating for the BTU output of heat.
An example you can reference: If a furnace is listed with an input rating of 100,000 BTU's and an efficiency rating of 80%, it would produce:
100,000 Btu input
X .80 efficiency
80,000 Btu actual output
If the same 100,000 BTU furnace has an efficiency rating of 93% it will produce:
100,000 Btu input
X .93 efficiency
93,000 Btu actual output
Seeing a pattern here? In the example above, using an 80% efficient furnace, the 2000 square foot home above would require a 100,000 BTU input furnace which will produce the necessary 80,000 BTU's output of heat.
Variables
Let's talk about all of the variables that come into play when selecting a new air conditioner system or furnace. One such Variable is your insulation, another whole set of variables being the type and number of windows in the space, number of stories in your home, the construction type, etc. All of these variables will greatly affect the required BTU's per square for both heating and cooling. A good rule to follow is if your home is well insulated and has newer style windows, you can (in most cases) safely choose the smaller size system that conforms to the specs needed for your total square footage.
Is your home two story? If the answer to that question is 'yes' it will place less of a load on the system in the downstairs floor because the second floor acts as additional insulation. If your home isn't well insulated or if it has older style windows and an obscenely high number of windows, you're going to want to select a larger system that falls within your specified square footage range. The less insulated and more windows within the environment, the more likely you will experience greater air and heat loss.
Click here for a Manual J calculation for your home
Quick Sizing