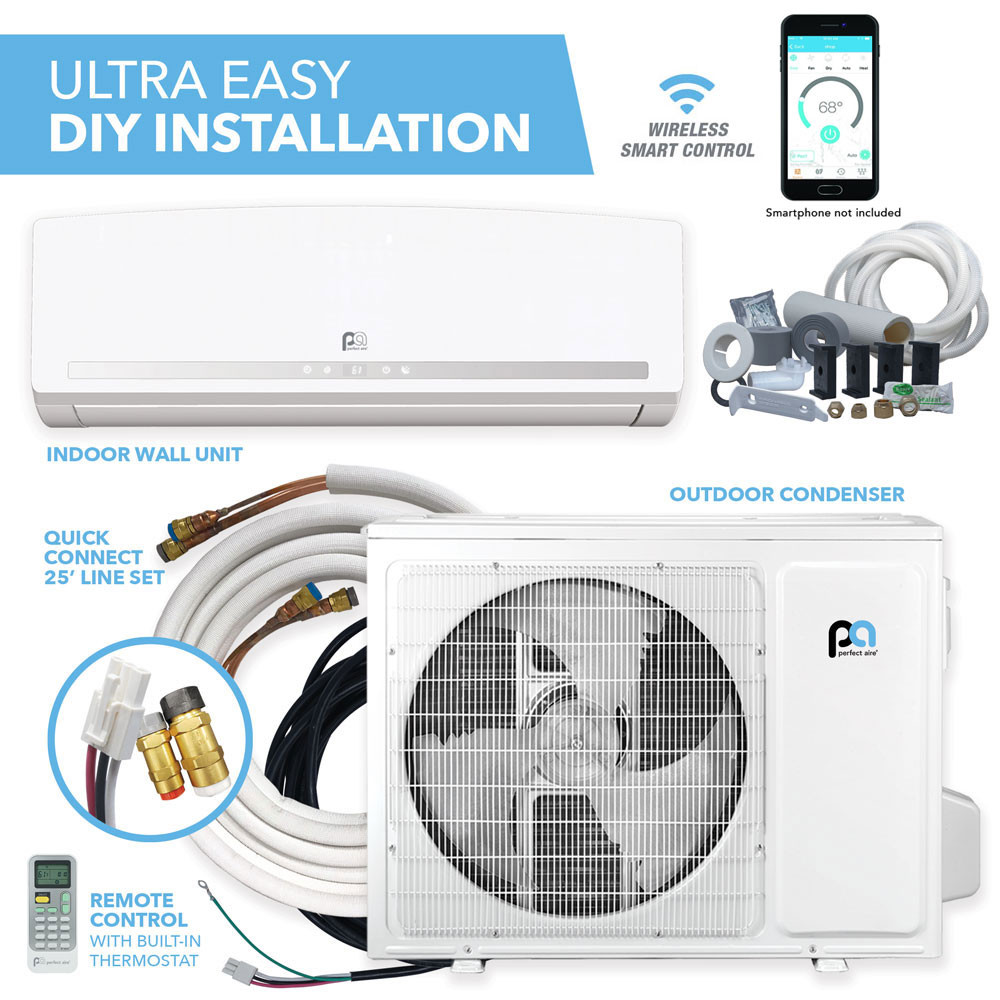 Perfect Aire DIY 24,000 BTU 21 SEER Quick Connect Ductless Mini-Split Heat Pump w/ WiFi - 230V
Details
Quick-rundown: A simple install DIY mini split AC & Heat Pump combo packed with 4 operating modes and Smart features for efficient year-round comfort in large spaces at an unbeatable price.
Overview
With no special tools or training required, the Perfect Aire 3PAMSHQC24 simplifies the do-it-yourself installation. This 24,000 BTU unit comes with everything you need to enjoy comfort in rooms up to 1,000 square feet. Follow the step-by-step instructions to connect the outdoor condenser to the indoor blower with the included 25' line set, and you're choosing between 4 operating modes with the included remote control in no time. Take advantage of the built-in Smart features by downloading the Perfect Aire app to your smartphone or tablet, and you're controlling, programming, and monitoring your mini-split from anywhere with a wireless connection.
DIY vs Non-DIY
DIY
No soldering, No refrigerant handling, No gauges, No vacuum pump or licensed contractor needed.
Full warranty on compressor AND parts, even if you self install
Cost of install: $0 plus your time invested to install the unit
NON-DIY
Price for unit with the additional install accessories needed for the installation is about 15% less(sounds like a great deal)
Estimated cost average for professional installation by an HVAC technician about the same cost as the equipment or more
Warranty in place but only if installed by a licensed HVAC company(no warranty otherwise)
Operation
The 4 Main Operating Modes
Cooling: 24,000 BTUs to efficiently cool spaces up to 1,000 square feet.
Heating: Efficient heat pump technology delivers 24,000 BTUs of heat, good for spaces up to 1,000 square feet.
This unit allows you to set your desired temperature from 62 to 80 degrees Fahrenheit.
Dehumidify: Enable DRY mode and the unit acts as a dehumidifier, removing more moisture than air conditioning alone. In this mode, you can remove 1.5 liters of moisture per hour, almost matching the energy factor of best-selling portable dehumidifier brands.
Fan Only: The unit offers 4 fan speeds in any operating setting or use the fan mode alone to circulate fresh air throughout your space.
Energy Saving Modes
AUTO Mode: A "set it and forget it" feature for eliminating guesswork. With your desired temperature set, enable AUTO mode and your mini split will choose the most appropriate operating mode to achieve maximum comfort in your space.
SLEEP Mode: Save energy and money by enabling SLEEP mode. The unit will adjust the temperature by 2 degrees towards a less costly operation: every hour for the first 2 hours, then locks in that optimal running state for the next 5 hours, before it shuts off automatically.
Smart Operation
The 3PAMSHQC24 model has a built in wireless smart controller. Simply download the Perfect Aire app, connect your smartphone or tablet, and you have a virtual remote controller. Switch between modes and program run times anywhere with a wi-fi connection.
Other Cool Features
Programmable Timer and Mode Scheduling
Set your system to turn on and off to save energy and money: Set TIMER ON and TIMER OFF times in 30-minute increments up to 10 hours, then 1-hour increments afterwards.
With the Perfect-Aire app and a Wi-Fi connection, you can even schedule times for the different modes to run – all from a smartphone or tablet.
4 Fan Speeds
Press the FAN SPEED button on the remote to cycle through Auto, Low, Medium, and High and find one that suits any situation.
Auto-Restart
In case of a power outage, the unit will automatically restart and revert to your settings once power is restored.
Auto-Swing Louvers & Angle Memory
The Louvers can be set to automatically swing back and forth for an even air distribution. Press the "SWING" button on your remote to start and stop.
Louver Angle Memory – Keep your previously set louver direction every time you power on your unit.
The Turbo Button
Hit this button on the remote to reach a desired temperature even faster. Your best friend when having guests over.
Anti-Mildew
Turn off the unit from COOL, AUTO, or DRY modes and the unit will operate in a super low-power state to dry up the condensed water many other AC units leave behind, preventing the mildew problem many have known with other AC solutions.
Refrigerant Leakage Detection, Self-Cleaning, & Self-Diagnostics
The indoor unit will automatically display "EC" when it detects refrigerant leakage.
LED Display codes on the indoor blower keep you in the know, letting you rest assured your timer was successfully set, indicating whether the unit is in defrost mode, self-cleaning mode, or simply indicating it is time to change your air filter.
The Critical Components
Anti-Corrosive Condenser & Inverter Compressor
Perfect Aire single-zone units use a golden hydrophilic condenser to accelerate the defrosting process, improving the heating efficiency. This unique anti-corrosive condenser can withstand salty air, rain, and other corrosive elements.
The inverter compressor is programmed to run at optimum speed; set by the input frequency as it varies between heat requirements. This allows the unit to curb drastic temperature swings, keeping your space comfortable. Inverters use a different rotation speed than regular compressors, out-performing them in quietness, efficiency, and longevity.
Additional Information
| | |
| --- | --- |
| SKU | 3PAMSHQC24 |
| Manufacturer | Perfect Aire |
| AHRI Certificate Number | 205653644 |
| Additional Information | 25' Precharged Line Sets |
| Additional Information | Auto Restart |
| Additional Information | Refrigerant Leak Detection |
| Additional Information | Timer and Sleep Mode |
| Additional Information | Low Noise Airflow System |
| HSPF | 10.5 |
| Cooling BTU | 23,400 BTU |
| Heating BTU | 26,000 BTU |
| Maximum CFM | 588 |
| Energy Star | Yes |
| Refrigerant | R410A |
| SEER | 21 |
| EER | 12.45 |
| Liquid Line | 3/8" |
| Suction Line | 5/8" |
| Electrical | 208/230V 1 Phase 60 Hz |
| Max Breaker Size | 30 |
| Min. Breaker Size | 15 |
| Tonnage | 2 Ton |
| System Tonnage | 2 Ton |
| Mini-Split Type | Wall Mounted |
| Height | Indoor Unit: 12-13/16" Outdoor Unit: 31-5/16" |
| Width | Indoor Unit: 43-5/16" Outdoor Unit: 34-7/8" |
| Depth | Indoor Unit: 9-5/8" Outdoor Unit: 14-3/8" |
| Weight (in lbs) | 186.0000 |
| Warranty | 1 Year Unit Replacement / 7 Year Compressor / 7 Year Parts |
| Resources | |
| Safety Information | PROPOSITION 65 WARNING |
Reviews
Highly recommended

Heating and cooling a 1000 sf cabin in southcentral Indiana with this unit. Very easy to install and so far we are impressed with how quiet and effective it is. One note, our lineset measured 24'-3" (we were expecting a full 25'-0"... so were a little tight but made it work). Also note, this unit has a wifi module behind the front control panel. If you don't plan to use the wifi controls and don't want the module constantly broadcasting you can unplug it easily and all controls still work fine with the included remote.

A simple DIY project

Delivery was excellent, the step by step installation instructions were easy to follow and the whole unit was installed with all the ducting and wiring in about 4 hours. Working great office was cool in about 15 minutes.

Excellent Unit!

So far I'm extremely pleased. The install was very easy and it works like a champ. It's quiet and cools a 1000sqft shop in minutes and holds that temp with minimal effort. My only complaint is that it did not come with the drip line extension. The unit has about 48" or so of drip line already installed in the system however, you need to purchase the extender separately. I really think that if this is being sold as a kit, it should be included. Unfortunately, I did not realize I needed it until I was in the process of installing it. Overall though, I'm very happy with my purchase.

Fantastic equipment

The delivery man was extremely courteous and placed the palets where I needed them. This unit was super easy to install. I followed the instructions to the letter. Watching videos on YouTube was a great help. We put the inside unit upstairs. It was easier to mount the inside unit with two people inside and one outside while feeding the Line Set through the wall. I used Plastic gutter downspouts for Line Set covers outside and painted them to match the siding. An HV/AC friend of mine couldn't believe we did it ourselves and that we didn't need to pull a vacuum. It cooled well through the summer and is heating well as we enter winter.

Second unit I bought

Very easy to install. Just take your time. This is my second unit and they work great. Air-conditioning and heat in one unit and you can't beat the price. I have both units in my Cabin in the woods. One upstairs and one downstairs. The Wi-Fi hook up is a great feature to have to turn on the heat or your air conditioning before I get there. Customer service at HVAC direct is GREAT. I highly recommend Perfect Air units.

Great DIY from order to install

Easy DIY project, quick delivery, 2 box set. Easy install in less than 2hrs with help needed to run line set through wall. If you can run a drill, wire in breaker, without government oversight.. this will be for you.

Works great

So far so good!! This is installed in my basement and is working great!

Easy Installation, Saves Money, Love the Wi-Fi

WOW.. so easy to install and the unit works great. I have this in my cabin in the Northwoods and it has saved me lots of money on my electric bill. The WI-Fi is awesome and easy to use. It even has a Geo Fence on it so when you leave the house it shuts off automatically and when i return within a certain distance from the house it automatically comes back on. After reading all the negative reviews on the MR Cool Wi-Fi i am so glad i went with Perfect Aire. Thanks for a great product
Write Your Own Review
Product Questions
Ask a Question
Sort By:
March 06, 2020James D. Green asked:

Can I buy a line set that is longer than 25 ft.?
Answer
Unfortunately that is the only size the DIY units come with -Thanks
February 28, 2020Julie Owens asked:

Is there a DIY option that includes a warranty with a line set option of longer than 25"?
Answer
Unfortunately 25' is the only length we have for DIY currently -Thanks
August 19, 2019Mark King asked:

What if you need less than 25 feet can you get shorter line's
Answer
For line sets shorter than 25' you will roll up the excess line set and attach it to the outdoor condenser. They do not have line sets that are shorter. Thanks!
February 19, 2018Brian Andrews asked:

What is the length of the line going from the outdoor unit to the indoor unit?
Answer
The precharged line set is 25 feet. Thanks!

Why Choose Prefect Aire?
Perfect Aire ductless mini-split air conditioners and heat pumps are the cutting edge of what modern, flexible fabrication can produce. These mini-split systems rely on state-of-the-art manufacturing processes and advanced design to deliver high efficiency.
Why Buy From Us?
Customer Satisfaction
Our dedicated staff works hard to ensure that all orders are handled quickly and efficiently to ensure that you get what you ordered as quickly as possible.
Security
We provide a secure online shopping experience to protect your information. We also provide the option to checkout with PayPal to allow you to use a checkout service you are familiar with.
Save Money
Our low price guarantee provides you with confidence and piece of mind, knowing you purchased a quality product at a great price