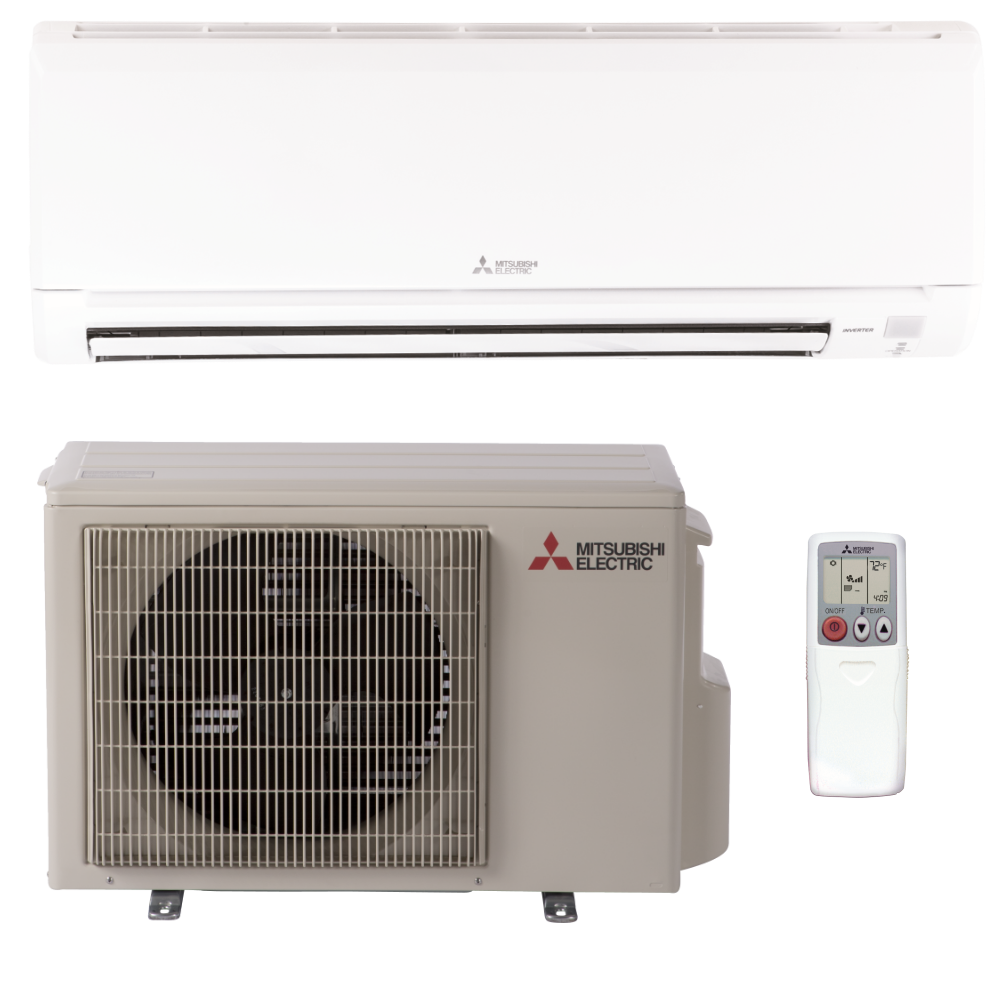 9,000 BTU 24.6 SEER Wall Mounted Mitsubishi Mini-Split GL Single Zone Heat Pump - MZ-GL09NA
Model:
MSZ-GL09NA / MUZ-GL09NA
Regular Price: $1,911.00
Special Price $1,433.25
Details
OVERVIEW
With its superior technology, Mitsubishi is considered one of the top brands of mini split on the market today. The MSZ-GL09NA / MUZ-GL09NA single-zone mini split lives up to Mitsubishi's superior expectations, providing you superior comfort with a high efficiency.
QUICK FACTS
Designed to be able to heat and cool a small room (in an ideal climate)
9,000 BTU, 24.6 SEER
230v electrical
Energy Star certified
Dry mode operation
9,000 BTU, 24.6 SEER
At 9,000 BTU, the MSZ-GL09NA / MUZ-GL09NA is generally suitable to heat and cool a small room in many climates. With a 24.6 SEER rating, the unit has a superior electrical efficiency than most central systems and is Energy Star certified. This efficiency combination makes it able to be installed across all mainland US states. Moreover, Mitsubishi's special Econo Cool mode adjusts the cooling points on the air handler and sweeping vanes, improving both efficiency while providing faster temperature changes.
Warranty
The MSZ-GL09NA / MUZ-GL09NA comes with Mitsubishi's standard 5 year parts and 7 year compressor warranty out of the box, and when the installation follows your state and local codes and you register the unit online through the manufacturer, it becomes a 10 year parts and compressor warranty.
Durability and Reliability
The Mitsubishi MSZ-GL09NA / MUZ-GL09NA single-zone mini split has a Blue Fin condenser design, making it resistant to wind, dust, salt, and rust to exponentially extend its lifespan. The unit functions down to -4°F, allowing you to be able to rely on the unit when you need it most.
Superior Comfort
The Mitsubishi brand offers superior comfort to its customers, offering the MSZ-GL09NA / MUZ-GL09NA with its top-brand enhancements. The unit is a hot-start model, meaning that the unit will not blow cold air into the room if it calls for heat, waiting for the heat exchanger to be ready to heat prior to operation. The unit also offers a dry mode, providing an enhanced dehumidification over other brands.
Intelligent for Ease
Mitsubishi's MSZ-GL09NA / MUZ-GL09NA mini split uses its Smart Set technology to provide a consistent temperature by variating airflow, direction, and air temperature output. When paired with the Kumo Cloud or one of the Cielo thermostats, the unit can connect to the Internet and you can control it from anywhere in the world that you have Internet access. The MSZ-GL09NA / MUZ-GL09NA's air handler also uses its own air to heat itself up, quickly and efficiently providing heat to your home so that you are comfortable faster.
Health in Mind
Mitsubishi does not stop at a superior comfort; it is also concerned with the health of whomever uses the unit. The MSZ-GL09NA / MUZ-GL09NA single-zone mini split provides an advanced filtration system, combining deodorization, anti-allergen, and microbial break-down functions all in one, enhanced filtration system.
Additional Information
| | |
| --- | --- |
| SKU | MSZ-GL09NA / MUZ-GL09NA |
| Manufacturer | Mitsubishi |
| AHRI Certificate Number | 202680594 |
| Controller | Wireless Included |
| Additional Information | Heat Pump |
| Additional Information | Maximum Line Set Length: 65' |
| Additional Information | Drain: 5/8" |
| HSPF | 12.8 |
| Cooling BTU | 9,000 BTU |
| Heating BTU | 10,900 BTU |
| Maximum CFM | 109-406 CFM |
| Decibel Level (dBA) | Indoor Unit: 19-43 | Outdoor Unit: 48-50 |
| Energy Star | Yes |
| Refrigerant | R410A |
| Refrigerant Charge | Pre-Charged For: 25' |
| Capacity | Dehumidification Rate: 0.23 gal/hr |
| EER | 15.4 |
| Liquid Line | 1/4" |
| Suction Line | 3/8" |
| Electrical | 208/230V 1 Phase 60 Hz |
| Electric Phase Filter | Single Phase |
| Max Breaker Size | 15 |
| Min. Breaker Size | 9 |
| Amperage Requirement | 15 |
| Tonnage | 0.75 Ton |
| System Tonnage | 1 Ton |
| Mini-Split Type | Wall Mounted |
| Min/Max Outdoor Temp for Heating | -4°-75° |
| Min/Max Outdoor Temp for Cooling | 14°-115° |
| Zone Compatibility | Single Zone |
| Operating Mode | Cooling, Heating |
| Height | Indoor Unit: 11-5/8" | Outdoor Unit: 21-5/8" |
| Width | Indoor Unit: 31-7/16" | Outdoor Unit: 31-1/2" |
| Depth | Indoor Unit: 9-1/8" | Outdoor Unit: 11-1/4" |
| Weight (in lbs) | 114.0000 |
| Additional Info | Indoor Unit Weight: 22 lbs | Outdoor Unit Weight: 88 lbs |
| Warranty | 10 Years with Online Registration |
| Resources | |
| Safety Information | PROPOSITION 65 WARNING |
Reviews
Will use again in the future

Exactly what I ordered for a great price and fast easy shipping

Love it

Fantastic unit, it runs great and have had no problems thus far
Write Your Own Review
Product Questions
Ask a Question
Sort By:

Why Choose Mitsubishi?
Mitsubishi is a global leader and is dedicated to building innovative, energy intelligent heating and cooling systems serving residential, commercial, and industrial applications. Their AC and Heat Pump Mini-Split systems are designed to provide years of comfort for your home while helping you to achieve high energy efficiency standards.
Why Buy From Us?
Customer Satisfaction
Our dedicated staff works hard to ensure that all orders are handled quickly and efficiently to ensure that you get what you ordered as quickly as possible.
Security
We provide a secure online shopping experience to protect your information. We also provide the option to checkout with PayPal to allow you to use a checkout service you are familiar with.
Save Money
Our low price guarantee provides you with confidence and piece of mind, knowing you purchased a quality product at a great price