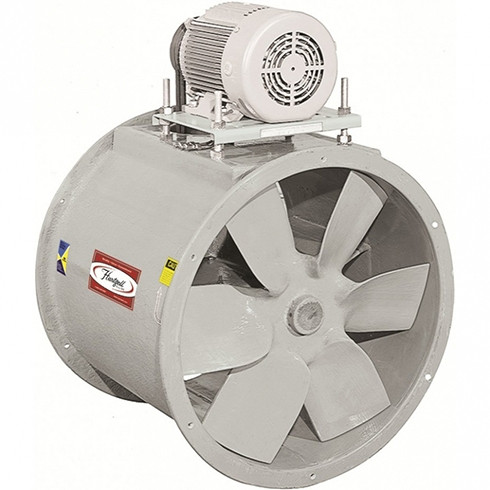 Hartzell Series 35 Fiberglass Belt Drive Duct Axial Fan - 12"
Details
The Series 35 Fiberglass Belt Drive Duct Axial Fan is manufactured by Hartzell Air Movement and comes completely assembled and ready to install. Designed for mounting in any position, from horizontal to vertical.
Hertzell's Series 35 Fiberglass Axial Flow fans use Ashland Hetron 693 polyester resin to achieve a Class I flame spread rate below 25 per ASTM E84 tunnel test standards, and NFPA Code 91 for blower and exhaust systems, which is OSHA approved. Fan construction conforms to ASTM Standard D4167 for fiber reinforced plastic fans and blowers. Featuring ground and polished Type 304 stainless steel fan shafts, with heavy duty, self aligning bearings in a sealed corrosion preventing drive compartment, with a minimum L10 life of 50,000 hours.
The Series 35's fiberglass propellers, fan housings and components are built to withstand temperatures up to 200° F. The 6 blade, airfoil design propeller is designed to prevent aerodynamic stall, and is made of solid fiberglass with an aluminum insert molded into the hub, providing a secure attachment to the shaft. The solid fiberglass fan housing includes flanges with drilled mounting holes. Motor mountings are steel plate coated with resin, and mounted on the drum exterior with glass mat, cloth and resin. The open end protected motor is supported by an encapsulated assembly base, using Type 304 stainless steel riser bolts and an epoxy coated base.
The fan assembly is dynamically balanced at the Hartzell factory prior to shipping in accordance with the American National Standards Institute, Std. S2.19-1989 "Balance Quality of Rotating Rigid Bodies," and Grade G6.3. Fans are manufactured in accordance with Hartzell's standard quality assurance procedures. Fan performance is based on tests conducted in Hartzell's AMCA accredited laboratory in accordance with the latest revision of AMCA Standard 210 for air performance and AMCA Standard 300 for sound performance. Fans are licensed to bear the AMCA Certified Air Performance Rating Seal.
Product Questions
Ask a Question
Sort By:
Why Buy From Us?
Customer Satisfaction
Our dedicated staff works hard to ensure that all orders are handled quickly and efficiently to ensure that you get what you ordered as quickly as possible.
Security
We provide a secure online shopping experience to protect your information. We also provide the option to checkout with PayPal to allow you to use a checkout service you are familiar with.
Save Money
Our low price guarantee provides you with confidence and piece of mind, knowing you purchased a quality product at a great price