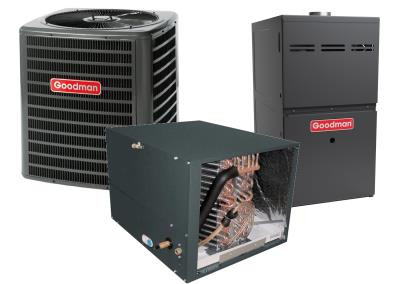 2.5 Ton 14 SEER 80% AFUE 60,000 BTU Goodman Gas Furnace and Heat Pump System - Horizontal
Model:
GSZ140301 / CHPF3636B6 / GMES800603BN
Regular Price: $2,993.00

Special Price $2,682.00

Details
A Goodman combination system is a great choice to keep your home warm all season long. With tons of extra features and a great price, the GMES800603BN is a perfect choice for heating.
Not intended for use in mobile homes.
60,000 BTU 80% AFUE Multi-Speed Single Stage Goodman Gas Furnace - Upflow/Horizontal
OVERVIEW
The GMES800603BN Goodman gas furnace features high-quality construction and efficient operation at a great value. The GMES800603BN single-stage, multi-speed furnace utilizes Goodman's superior heat exchanger design to provide efficient, reliable heating to your home. If you're looking to cut your energy bills and improve your comfort without breaking the bank, your search stops with the Goodman GMES800603AN.
QUICK FACTS
This furnace is ideal to heat a smaller house (depending on climate)
60,000 BTU 80% efficient natural gas furnace
Requires metal flue venting
Can be used in the upflow or horizontal orientation
Can be converted to an LP furnace with a conversion kit (sold separately)
Innovative design for electrical efficiency, safety, and lower sound output
60,000 BTU
The GMES800603BN Goodman gas furnace is 60,000 BTU's. This BTU count is a measure of the input of the furnace per hour, while the output of this furnace is 48,000 BTU's (60,000 X 80% AFUE) per hour. In ideal climate conditions, this 60,000 BTU furnace is usually used to heat a small house.
80% Efficiency Rating
The GMES800603BN Goodman gas furnace is 80% efficient, and the standard furnace efficiency on the market today. This means that 80% of the gas going into the furnace is used to heat your home and the remaining 20% is lost out of the flue venting. Please note that all 80% furnaces must be vented using metal flue venting, while anything higher than 90% efficient must be vented using plastic/pvc venting.
Please note that this furnace does not comply with California Low NOx or Ultra-Low NOx regulations. For the Low NOx equivalent of this furnace, click here. If you have any questions, please contact us.
Single Stage Furnace
The GMES800603BN Goodman gas furnace is a single stage furnace has only one heat output. Regardless of the indoor temperature, this furnace will burn at 100% output whenever the thermostat calls for it. Like a light switch, this furnace's burner will either be on or off and nothing in between. A single stage furnace is the standard efficient furnace since every time your furnace turns on the furnace uses the same amount of energy.
Natural Gas or LP Furnace
From the factory, the GMES800603BNruns on natural gas. However all Goodman gas furnaces can be converted to propane using the furnace's corresponding LP conversion kit, an optional accessory at an additional cost that consists of a replacement set of orifices and springs.
Multi-Speed ECM Blower Motor
Instead of the last generation PSC blower motor, the GMES800603BN utilizes a multi-speed ECM motor, which uses less power and provides smarter air circulation. All of this causes an overall increase in the electrical efficiency of your furnace, which saves you money.
Warranty
With installation that follows your state and local codes and with online registration, all Goodman furnaces come with a 10-year parts and lifetime heat exchanger warranty through the manufacturer.
Durable Hot Surface Igniter
The hot surface igniter on modern Goodman furnaces are more durable than previous designs, decreasing related issues and lowering maintenance costs. These hot surface ignitors are also more efficient than standing pilot and older HSI designs, saving you even more money.
Self-Diagnostic Control Board
The Goodman brand has improved technology from years of production experience, allowing for a long-lasting product that rarely has any issues. However, if something does go wrong on the furnace, the control board has a set of sensors that allow it to diagnose basic issues, allowing for easy troubleshooting and to notify the owner if basic maintenance or warranty work is recommended. This increases the overall safety of the unit, for the furnace itself and the occupants of the home where it is installed.
Heavy Gauge Steel Cabinet
The heavy-gauge steel cabinet on new Goodman furnaces provide adequate protection to the internal mechanisms of the unit. The cabinet is also more air-tight than previous models, allowing for a quiet, more economical unit due to losing less heat and preventing more sound from exiting the unit.
Ease of Installation
The value of modern Goodman furnaces doesn't end at efficiency. Today's Goodman furnaces feature many different connection options to reduce installation. The GMES800603BN model has a more universal design, which consists of its ability to be installed in both an upflow or horizontal configuration. This allows for an easier installation in more locations, from your attic to your basement. The furnace also comes with color-coded low-voltage terminals that allow for a shorter and easier installation time, which decreases installation costs.
Goodman 2.5 Ton 14 SEER Heat Pump
OVERVIEW
The Goodman GSZ140301 heat pump condenser is a standard efficiency, low-cost solution for an all-electric home when paired with a suitable heat pump coil or air handler. Just like all of Goodman's equipment, the GSZ140301 is manufactured with high-quality materials to provide a superior comfort in your home.
QUICK FACTS
Ideal size to cover a medium-sized house in ideal climates
2.5 ton, 14 SEER heat pump condenser
Low sound output
Fully charged for up to 15' of line set
Factory-installed bi-flow filter drier
2.5 ton
The Goodman GSZ140301 heat pump has a capacity of 2.5 tons. In an ideal climate, this tonnage will normally cover up to a medium-sized house. In some bundles, the air handler or coil associated with this condenser may be intentionally larger in tonnage to maintain the unit's overall efficiency. Please note that an indoor air handler or coil that is compatible with heat pumps is required for this unit to function.
14 SEER
At 14 SEER, the GSZ140301 heat pump condenser has the industry-standard minimum, allowing the unit to remain inexpensive upfront in comparison to higher SEER ratings. If you are replacing an existing heat pump, in most cases this SEER rating will still be higher than your old unit, allowing it to still save you money over time in energy bills.
Warranty
The GSZ140301 condenser comes with Goodman's standard 10 year parts warranty with online registration through the manufacturer. An installation that follows your state and local codes is required for the warranty to be upheld.
Durability and Reliability
The Goodman GSZ140301 heat pump condenser is manufactured with a durable cabinet with paint that is approved for 500 hours of salt spray, making it compliant with the 2010 Florida building code unit integrity requirements for hurricane-like weather when properly anchored to your local codes. The built-in bi-flow liquids line filter drier protects the unit from impurities in the refrigerant and other general wear and tear, increasing the reliability of the unit.
Installation and Maintenance
The Goodman GSZ140301 has easily accessible gauge ports and service valves with sweat connections, allowing for a faster and easier installation process. There are factory-installed features such as a filter drier, compressor crankcase heater, pressure switches, and a high-capacity muffler so your installer doesn't have to, further providing ease to the installation process. Moreover, the cabinet of the unit is fit with two maintenance access panels: one on the top and one on the side. All of these features lower your installation and maintenance costs, keeping more money in your pocket to spend on the things you care about most.
Comfort in Mind
With its sound control top insulation and SmartShift technology for quiet and reliable defrost cycles, the GSZ140301 heat pump has some of the lowest sound outputs on a single stage unit on the market today.
3 Ton 17.5" Goodman Horizontal Evaporator Cased Coil
OVERVIEW
The Goodman CHPF3636B6 evaporator coil is designed for any installations that the coil needs to sit on its side, in the horizontal position. With its enhanced comfort and superior efficiency design, the CHPF3636B6 is an inexpensive yet quality choice for you.
QUICK FACTS
3 ton evaporator coil
Installable in the horizontal configuration
Usable with either a heat pump or an AC-only condenser
Works with R410A or R22 refrigerant
Low air leakage
Check flowrater expansion device for use in any application
3 Tons
At an output of 3 tons, the Goodman CHPF3636B6 evaporator coil is ready for almost any horizontal installation at that size. In many situations, a condenser that is paired with the condenser is going to be smaller than this coil. This is intentional and is to maintain the overall unit's efficiency. Please note that for this coil to function, a furnace or blower and a condenser is required, all sold separately. This coil is not designed to replace a coil in a single-piece air handler.
Warranty
The CHPF3636B6 coil is covered under Goodman's standard 10 year parts warranty when the unit is installed following your state and local codes, the coil is paired with a compatible R410A condenser, and the entire system is registered online through the manufacturer.
Installation and Durability
The Goodman CHPF3636B6 evaporator coil is designed with a durable outer casing and a rust-resistant drain pan to lower general wear and tear to make sure the coil works for years to come. To ease installation, the unit is designed to be slim and able to fit in many crawl spaces and attics, and with its foil-face insulation making the unit's air leakage minimal, installation location does not necessarily have to be insulated for normal temperature operations. For maintenance, the coil has a split-seam on the front of it for easier access.
60,000 BTU 80% AFUE Multi-Speed Single Stage Goodman Gas Furnace - Upflow/Horizontal
sku
GMES800603BN
manufacturer
Goodman
afue
80%
heating_btu
60,000
blower_motor
Multi Speed - ECM
cfm
1400
configuration
Upflow/Horizontal
exhaust_pipe
Metal
flue_requirement
Metal
electrical
115 V. 1 Phase 60 Hz
burner_stages
Single
fuel_type
Gas
height
33 3/8"
width
17 1/2"
depth
28"
weight
105.0000
warranty
10 Years with Online Registration
resources
safety_information

This gas appliance requires a trained technician to install. Improperly connecting gas lines or improperly connecting a gas flue or venting may result in death. By purchasing this item, you are agreeing that you are using a trained technician to install this gas appliance. We will not be responsible for any injury or property damage arising from improper service or service procedures. Whoever installs or services this unit assumes responsibility for any personal injury or property damage which may result. Many jurisdictions require a license to install this equipment.


PROPOSITION 65 WARNING
Goodman 2.5 Ton 14 SEER Heat Pump
| | |
| --- | --- |
| sku | GSZ140301 |
| manufacturer | Goodman |
| cooling_btu | 30,000 |
| heating_btu | 30,000 |
| decibel | 74 |
| energy_star | Yes |
| refrigerant | R410A |
| seer | 14 |
| compressor_stage | Single Stage |
| compressor_type | Scroll |
| liquid_valve_size | 3/8" |
| suction_valve_size | 3/4" |
| electrical | 208 / 230 V. 1 Phase 60 Hz |
| max_breaker_size | 30 amps |
| min_breaker_size | 18.7 amps |
| nominal_capacity | 2.5 Ton |
| valve_type | Sweat |
| height | 38.25" |
| width | 29" |
| depth | 29" |
| weight | 198.0000 |
| warranty | 10 Years with Online Registration |
| resources | |
| safety_information | PROPOSITION 65 WARNING |
3 Ton 17.5" Goodman Horizontal Evaporator Cased Coil
| | |
| --- | --- |
| sku | CHPF3636B6 |
| manufacturer | Goodman |
| configuration | Horizontal |
| refrigerant | R410A or R22 |
| liquid_line | 3/8" |
| suction_line | 7/8" |
| nominal_capacity | 3 Ton |
| style | A-Coil |
| height | 21.125" |
| width | 17.5" |
| depth | 26" |
| weight | 50.0000 |
| warranty | 10 Years with Online Registration |
| resources | |
| safety_information | PROPOSITION 65 WARNING |
Reviews
No complaints

Unit has worked great for the last few months. Can't wait to see how it performs in the winter when I switch it over to heat mode.
Write Your Own Review
Product Questions
Ask a Question
Sort By:

Why Choose Goodman?
For over three decades Goodman has concentrated on something more important than simple brand recognition consumer advertising. They focus on the design, engineering, and manufacturing of dependable products that have helped millions and millions of homeowners achieve reliable, high-quality, and affordable indoor comfort. In addition, Goodman has earned the loyalty and respect from thousands of local independent heating and cooling professionals across North America.
Why Buy From Us?
Customer Satisfaction
Our dedicated staff works hard to ensure that all orders are handled quickly and efficiently to ensure that you get what you ordered as quickly as possible.
Security
We provide a secure online shopping experience to protect your information. We also provide the option to checkout with PayPal to allow you to use a checkout service you are familiar with.
Save Money
Our low price guarantee provides you with confidence and piece of mind, knowing you purchased a quality product at a great price