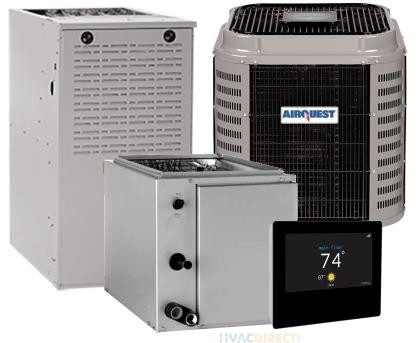 2 Ton 18 SEER 80% AFUE 90,000 BTU AirQuest Gas Furnace and Heat Pump System - Vertical
Model:
HVH824GKA / END4X42L17A / G80CTL0901716A / SYST0101CW
Regular Price: $7,163.95

Special Price $6,113.95

Details
An AirQuest combination system is a great choice to keep your home warm all season long. With tons of extra features and a great price, the G80CTL0901716A is a perfect choice for heating.
All AirQuest models are manufactured with Carrier and come with a 10 year parts warranty and 20 year heat exchanger limited warranty. Not intended for use in mobile homes.
90,000 BTU 80% AFUE Two Stage Multi-Positional AirQuest Gas Furnace
OVERVIEW
With its variable speed blower motor and two stage burner, the AirQuest G80CTL0901716A can provide a consistently superior comfort to almost any application.
QUICK FACTS
90,000 BTU, 80% AFUE natural gas furnace
Generally suitable for up to a medium-sized house in ideal applications
Communicating variable speed blower with a two stage burner
Multi-positional design—can be installed in the upflow, downflow, or horizontal orientations
California Low NOx compliant
Field-convertible to propane with an optional LP kit
On board self-diagnostics
90,000 BTU, 80% AFUE
The AirQuest G80CTL0901716A has an input of 90,000 BTU. With an efficiency of 80%, this means that the furnace has an output of 72,000 BTU. The 80% AFUE also means that for the gas going into the furnace, 80% of it is used to heat your home while the remaining 20% is lost out the flue piping and lost to normal furnace operations. All 80% furnaces require metal flue venting, and if you need it to be plastic/PVC venting a furnace with an efficiency of 90% or above is required. While this unit uses natural gas as fuel out of the box, we also have an LP conversion kit, available at an additional cost.
Warranty
AirQuest offers Carrier's standard 10 year parts warranty and lifetime (20 year) heat exchanger limited warranty. Please note that in order for these warranties to be upheld, installation following your state and local codes are required, along with timely registration through the manufacturer.
Installation and Durability
With its ability to be installed in any configuration—upflow, downflow, or horizontal—the AirQuest G80CTL0901716A manufactured by Carrier is very versatile in application potential. The unit has a durable outer casing that can withstand wear-and-tear through its entire lifetime, providing the peace of mind that your home will stay comfortable year-round. Please note that this furnace is not designed to be suitable for a mobile home on its own.
Superior Comfort
All AirQuest-brand equipment is manufactured by Carrier, one of the leaders of superior comfort in the industry. The AIrQuest G80CTL0901716A definitely lives up to the Carrier family name thanks in part to its communicating variable speed blower motor and its two stage burner. Both of these prominent features provide the most precise temperature and airflow output possible, making you as comfortable as possible in your home year-round.
2 Ton 19 SEER Variable Speed AirQuest Heat Pump
OVERVIEW
With its communicating nature and variable speed compressor, the AirQuest HVH824GKA lives up to its Carrier manufacturer name, providing one of the most superior comforts to your home on the market today. If you want the best of the best possible heat pump condenser with exceptional comfort and the highest possible efficiency offered by AirQuest at this size, this is it.
QUICK FACTS
2 ton, 19 SEER heat pump condenser
Can heat and cool up to a small house in average conditions
Variable speed compressor with communicating capabilities with other matching system components
Filter drier included to be field-installed and suction line accumulator factory-installed
Built-in temperature sensor for automated heat source transition
Multiple safety switches to protect both the unit and your home
Energy Star certified
2 Tons
The AirQuest HVH824GKA heat pump condenser has an output of 2 tons, generally enough to heat and cool up to a small house in ideal climates. In many system configurations, the tonnage of the unit's paired coil or air handler will be larger in tonnage than this condenser, which maintains the efficiency of the unit.Please note that this condenser cannot function on its own, and it needs an indoor coil or air handler to work. This unit will also only heat down to around 35??F, and if you need heat any lower than this, a backup heat strip will be needed to act as straight electric heating in a compatible air handler.
19 SEER
The AirQuest HVH824GKA air conditioner condenser is rated at 19 SEER, making it approximately 25% more efficient than the minimum efficiency 14 SEER units, saving you money in electric bills over the entire lifetime of your unit. With its 19 SEER rating, this condenser is one of the most efficient units on the market today. In general, heat pumps will heat more efficiently than straight electric furnaces, making them an excellent and money-saving solution for almost any all-electric solution, especially when you have a lot of heating during outdoor temperatures ranging from when you start using your heating system all the way down to 35??F.
Warranty
AirQuest offers a 10 year parts warranty on its condensers, and on this unit there is also a 10 year no hassle replacement limited warranty. For these warranties to be upheld, the unit must be installed following your state and local codes, a new and certified coil must be installed at the same time, and the entire system must be registered online through the manufacturer.
Intelligently Enhanced Comfort
Engineered to be 2 stage and with the ability to communicate with communicating air handler counterparts, the AirQuest HVH824GKA can support the most precise temperature output available, providing primarily enhanced comfort to your home year-round. Moreover, this unit is a communicating system when paired with a compatible air handler and other accessories (both available at an additional cost), allowing it to relay information to and from the thermostat constantly for optimal performance. On top of these benefits, these system features provide a small efficiency boost, all amounting to one of the best types of systems on the market today.
AirQuest 3.5 Ton 17.5" Width Vertical Evaporator Cased Coil
OVERVIEW
AirQuest takes pride in its ability to provide a high-quality system, including all system components. Leaving no exception, the END4X42L17A vertical coil is a superior option for almost any application while maintaining the entire unit???s efficiency with a factory-integrated TXV kit for enhanced energy optimization.
QUICK FACTS
3.5 ton vertical coil
Works in both upflow and downflow applications
Compatible with both AC-only and heat pump condensers
Factory-installed TXV kit for enhanced energy optimization
Sturdy and compact design
3.5 Tons
The AirQuest END4X42L17A is rated for up to 3.5 tons of heating and cooling. With its ability to be installed with either an AC-only condenser or a heat pump condenser, this unit is ideal for many applications. In some packages, this coil will be larger than its paired condenser, which will increase the overall efficiency of the entire unit, but the coil should never be smaller than its paired condenser. Please note that this item cannot operate independently from a compatible condenser and blower or furnace, each available at an additional cost.
Warranty
AirQuest offers a 10 year parts warranty on their coils when they are installed following your state and local codes, as well as the system is paired with a certified system matchup. Please note that in order to obtain the entire length of this warranty, the entire unit must be registered through the manufacturer.
Ion System Control
Don't call it a thermostat -- mere thermostats simply don't offer all of the features and functionality of the Ion™ System Control. Offering full command over a communicating comfort system, including temperature, humidity, ventilation, comfort scheduling, energy management and more, this is our most fully-featured control. Anywhere in the connected world, you are just a touch or a tap away from full system control with an internet-enabled device.
High resolution, smartphone-like touchscreen
Wi-Fi enabled for remote access and control
Pair with our communicating, modulating gas furnace; variable-speed fan coil; inverter-driven outdoor units; and zoning system for a complete Ion Comfort System
Capable of controlling temperatures and fan speeds in up to eight zones
Local weather 5-day forecast
Humidity control for enhanced comfort
Dual fuel system management capable
Auto changeover between heating and cooling
Four levels of "constant ON" fan speeds
7-day programming with temperature control throughout the day and week (wake, away, home, sleep)
Advanced smart setback for optimal energy savings during "away" and ramp up periods
One-button Touch-N-Go quick-settings-change feature
Simple vacation programming controls temperature and humidity
System maintenance reminders
10-Year No Hassle Replacement Limited Warranty
Reviews
Fantastic customer support.

I'm using most of the features this controller offers and it was tricky to get my old ventilator working with this new HVAC system. When we exhausted the knowledge in-house at HVACdirect.com, they referred me to a local expert who stuck with me until all capabilities were functioning perfectly. One thing to know about this controller... If running a whole house ventilation system... there is a 1-1/2 minute delay before the furnace fan begins to do its part. That delay kept me wondering what was wrong for a few weeks but now it all works perfectly. Highly recommend HVACdirect.com and the ION system controller.
Write Your Own Review
Product Questions
Ask a Question
Sort By:
Why Buy From Us?
Customer Satisfaction
Our dedicated staff works hard to ensure that all orders are handled quickly and efficiently to ensure that you get what you ordered as quickly as possible.
Security
We provide a secure online shopping experience to protect your information. We also provide the option to checkout with PayPal to allow you to use a checkout service you are familiar with.
Save Money
Our low price guarantee provides you with confidence and piece of mind, knowing you purchased a quality product at a great price